The lastest addition to my setup recently purchased is the Nikkor 80-200mm ED 2.8 AF-D lens. While I drool to get the 70-200mm 2.8 VR AF-S lens, the price is way out of my range. The 80-200mm is about 1/2 the price.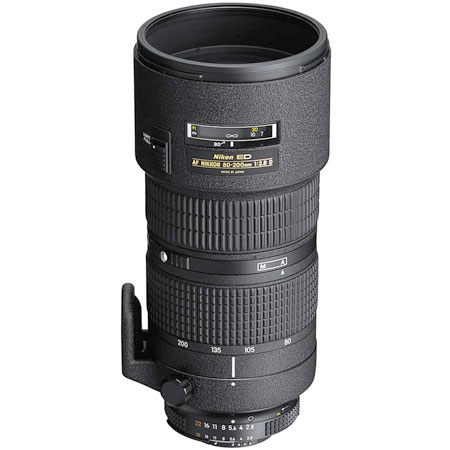 The lens is a bit shorter than the latest generation 70-200 2.8 VR. It is solid strudy construction with a tripod collar ring. If you are planning to use it in a small camera, such as D70 or even D200, I highly suggest having the battery pack for balance (MB-200 for the D200 Camera). Without it, it is hard to handle due to the heaviness of this lens.
After using it for the first weekend after purchasing it, I have to say I am impress with the quality of this lens. The AF-D focus slower than AF-S, however on the D200 and above, the focus speed is definitely faster than the average joe. This is absolutely the best lens for the price it is available at. You could find a use one at
KEH.COM
or some other outlet for well under 700 bucks. While I purchased my brand new at
Samy's Camera
(didn't want to wait for shipping), it was tax free for under 950.00.
Ken Rockwell Review:
http://www.kenrockwell.com/nikon/80200.htm
Offical Nikon Site:
http://www.nikonusa.com/template.php?cat=1&grp=5&productNr=1986
This lens does not come with a hood, you have to purchase it separately for approx 30 bucks. I find the HB-7, the recommended hood for it, is a bit too much. The lens handle well in sunlight and the need for it isn't extremely import.
Here are a few pictures I've taken with this lens. I am still trying to get use to it, as it is less than 48 hours old when used to take these pictures.
Let me know what you think. (Note: Click on the image for full size view)
****
Updated: 03/29/2007 - The whole weekend made me itch of the "WHAT IF" factor, so today I went back to Samy's Camera and exchange the 80-200 2.8 AF-D lens for the Mercedes 70-200 2.8 VR. The MONSTER as most people refer to it by. I can't wait to test it out! See my future post for sample pictures of it.
***